Growing up, many of us were taught to stand up straight and told to pull your shoulders back. Somewhere along the way to adulthood, we learned to hold in our bellies. If we learned anything at all about the pelvic floor, it's most likely that Kegels can solve any problem we might have. As adults, many of us spend our days hunched over computers and stressed out about our work, relationships, and life in general. All of this translates to suboptimal posture and breathing. It also shows up in unhelpful (though well-intentioned) yoga cues that don't support the way the body actually works.
Over time, we tend to develop breathing patterns that don't serve us well, but imagine how freeing it would feel to breathe with ease. To feel your neck and upper chest relax and your lower ribs expand. To experience a calming sensation that you can bring about anywhere, anytime.
We don't realize the power our breath has until we understand how to optimize it from the inside out — everything begins with and connects to the breath. 
Breathing is a dynamic process closely linked with posture. In this course, you'll learn the structure and function of the breath cycle, assess your own postural alignment, and experience the effects of position changes on your breathing pattern. You'll optimize your breathing and learn how to use the breath to affect your body's systems - to filter the noise, to decrease stress, to shift from fight or flight to rest and digest.
Optimize Your Breathing includes a course workbook, videos, and PDFs.
You'll learn:
The anatomical structures of breathing 

The muscles of breathing

How to use breath as a gateway to affect your mood, pain, heart rate, gastrointestinal function, and more

Why traditional yoga cues can be unhelpful — and how you can create your own cues

How to assess and align your own body to find your breath

The movement of your pelvic floor in relation to your breath

Integrating yoga postures and transitions with the breath
This course opens for enrollment in December.
Course Structure
Welcome
Breathing Structure & Function
Elements of an optimal breath
Common suboptimal patterns
How you breathe matters
Optimizing Alignment & Coordination
Position the rib cage & pelvis
Myths, unhelpful messages, and compensations
Assess & align your posture
Finding Your Breath
Experimenting with cues
Exploring imagery
The pelvic floor elevator
Integrating with yoga postures & transitions
Wrap Up
Course Curriculum
Available in days

days after you enroll

Welcome
Available in days

days after you enroll

Breathing Structure & Function
Available in days

days after you enroll

Optimizing Alignment & Coordination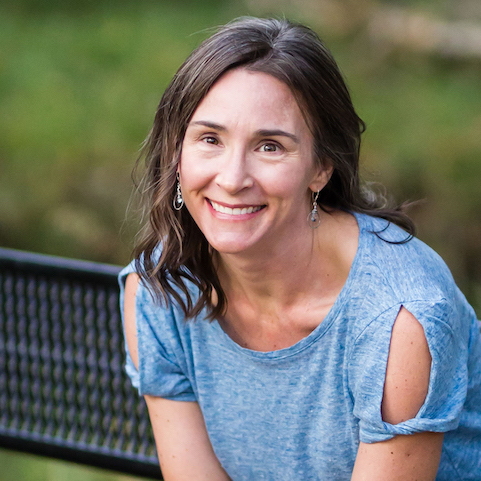 About Jen Wilking
Your instructor is Jen Wilking, an experienced yoga teacher, a licensed physical therapist, and certified yoga therapist. Lighthearted and passionate, she's known for her engaging style and ability to share complex concepts in a clear and accessible way. Her workshops are applied, relevant, and fun. Jen has been developing and delivering anatomy workshops and trainings since 2013. She brings yoga anatomy to life with integrated content and a sense of humor.
Testimonials From the Live Workshop or Individual Session for This Course
Jen has taught this workshop many times in person and online. Here's what some of her students have to say:
I took this workshop last month and then did a private session with Jen... I thought I knew everything about breathing, but I do not. This one changed me. I love how Jen applied the teaching of anatomy principles to yoga specifically - it was really helpful to have ways to actually use what I learned! This workshop was a full strategy towards understanding posture and the implications it has on the way we breathe. Jen offered easy ways to assess and support posture to facilitate the body's innate ability to breathe, and I've been using them myself ever since - I can't wait to apply them in a yoga class and with my students. I feel very confident that I'll be able to explain the anatomy of breath, posture, and balance and can't wait to take additional trainings from Jen.
Kari Kwinn - yoga teacher, writer, and teacher trainer
This was such a thoughtful and approachable way to dive into a not always accessible topic. I appreciate Jen's welcoming and warm teaching style and really enjoyed this workshop! Thanks, Jen!
I highly recommend Jen's How You Breathe Matters workshop. With the 1-on-1 format Jen was able to assess what I already knew, set specific learning goals, and help me apply that knowledge to my own body as well as my teaching. I left with concrete skills to apply in my yoga classroom, as Jen provided science-based alternatives to some of the commonly heard cues and teachings around breathing in yoga.
Laurel Cepero
I took Jen's Breath Workshop in March of 2019. To say it was life changing would be an understatement. I, like most yogis who have been practicing yoga for many years know the importance of breath. I thought I knew how to breathe … I did not! Jen 's workshop deepened my understanding of the anatomy and how the breath works. She has a way of explaining how the anatomy works in a fun and enlightening way, so simple but so enlightening! Jen's How You Breathe Matters is truly a gift. Thank you Jen!!
Cookie Spatafora